AKA this post has no pre-defined direction. Buckle up, Buttercup.
First of all, whew. Life is busy! In addition to my real grown-up J-O-B, general training, tri training, and trying to get all good at Spinning, I've taken on 2 rad freelance projects in addition to some other side web projects (one being my poor neglected husband's website). Busy. I haven't seen my family in weeks, which is abnormal to say the least. Hopefully this weekend will include some family time.
Oh, wait, it totally will because Sunday (after I finish a 5K), I'm going with my sister to meet our biodad for lunch so she can maybe restart their relationship. This is a big step for both of them – hopefully after this, I get to not be in the middle of the weirdness and they can be on some level of speaking terms again. Fingers crossed, and I'm SO happy this is happening. Having a split life growing up, with mom and sister against dad (and sometimes me, it felt) was tough at times, to say the least. And I know it has caused a lot of guilt issues for my sis, too, which she doesn't need to be experiencing. I hope this is a meeting that brings everyone some peace of mind and added love moving forward.
And I'm excited for a brick workout with T's tri training group Saturday AM – I'm so proud of her, and she's so good at helping people feel comfortable with what (in my mind) is easily one of the most intimidating experiences of all time. Last week's endurance Spin class and the subsequent strength training session she put together were awesome, so I'm looking forward to a bike/run workout in the incredible weather we've been so lucky to have this week.
Last week, I really let myself relax and didn't add in any extra workouts outside of my normal training schedule. I also relaxed on my diet a bit and indulged in pretty much everything I've craved in the last month. It was mostly awesome, but I'm jiggly now and a couple pounds heavier, so it's back to normal for me. And normal is getting easier and easier, which is nice.
I played golf for the first time in a LOOOOOOONG time this past weekend and let me just tell ya…it was NOT pretty. I'm kind of terrible, and being terrible at anything instantly makes me angry, so I'm not exactly a fun golf partner. I think by the 4th hole (of 9, no 18 for this grump), Mr. T was ready for a divorce. I tried to behave, but holygodammitshitfuckballs, is it frustrating to suck to hard at something you're trying to be decent at. I get it, it takes TONS of practice and I'm not naturally good at anything but school (which is a sad reality), but that doesn't make a single wiff less infuriating, or the ball only going 17 yards off the tee any less hissy fit inducing. You guys really should rank Mr. T as a saint for not kicking me out by now.
I get just as pissy at workouts, too. Poor J-Derp. He handles it well, but I get shouty, bratty and extra cussy when I try to do something and I just can't get it right. Then I get SUPER stoked and happy when I totally nail something. So really, being my trainer must be like babysitting a bi-polar, oversized toddler with Tourettes. I'm all 'What the fuck are you making me do? You're dumb! I hate this, and I hate all of you! I'm never coming back, NEVER!' followed by 'Dude, did you SEE THAT?!? Best day ever! Unicorns, kisses and puppycats!'
What other mental diarrhea can I throw at you? I think I'm running out of steam.
I promised some recipes, but I've been too lazy to type up the ones I modified/invented myself, so here are some links to things either Mr. T or I have made and loved recently:
ACTUALLY Easy Blueberry Crumble. So ridiculously good. Great as a dessert, or as a breakfast dish. This is so good that I've already made it twice and only found the recipe a few weeks ago.
Sweet Potato and Egg Salad. Because of this recipe, I now make my own mayo and can have chicken salad, egg salad and even this sweet potato/egg salad in my life again…all work as a meal (lettuce wraps), but this particular recipe is a perfect BBQ side. I love PaleOMG.
Brussels Sprouts and Spinach Frittata. I make this on a Sunday and BAM! Second breakfast for a week (I have a smoothie at home and a mid-morning snack at work, which I call Second Breakfast because I like Hobbits). Another one from PaleoOMG.
Turkey and Spinach Stuffed Sweet Potatoes. Mr. T made this a while back, and it was really yummy. I hope we have it again soon. Again, PaleOMG saves dinner.
Homemade Turkey Sausage. Store-bought sausage, turkey or pork or anything, is generally full of chemicals, preservatives and sugars, so I was excited to find a yummy recipes for a version I can feel good eating. We made this ground up to use in my next recipe, instead of in patties like the recipe says. Still yummy!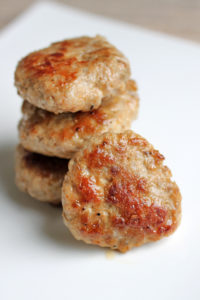 Egg Muffins. Now, I totally modified these to fit my eating habits and taste. I made the homemade turkey sausage (okay, Mr. T did), wilted some spinach and didn't use any cheese, but the basic premise is the same.
The other things have so many modifications or just need me to type up recipes, so I'll get to more of those later. I have a Pinterest board full of things yet to be made, so I'll only post the recipes here I try that are actually good. You're welcome. Hehehe.
In the meantime, here's some of the interweb funny I've collected since we virtually hung out last:
Oh, and I almost forgot somehow…I got my tattoo colored finally! One single yellow rose to represent Grandma V. Sean at Tower Classic did an AH-MAAAAAAA-ZING job. He's the best. Ever.
Ok, toodles!
Tags: Grandma, grumpy pants, rando alert, toddler with Tourettes