I feel like Stuart Smalley
I feel like Stuart Smalley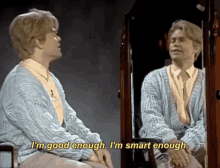 This feels SO WEIRD to me. But I've committed to it. So here goes, day #2 of identifying something nice about myself.
I want everyone around me to be happy.
Whether that means I'm cracking jokes, sending memes, or finding ways to help, I much prefer my family, friends and coworkers to be happy. If I can help brighten someone's day or change a bad day to a better one, I want to do that.
So here you go.